Cervical Artificial Disc Replacement
Cervical artificial disc replacement is a microsurgical technique for implanting a disc implant after total removal of the disc. Such a replacement operation allows you to reliably stabilize the affected segment and restore its lost support functions. The prosthesis restores mobility and the amortization of discectomies level close to normal values. Thanks to the introduction of a special replacement device that is located between two vertebrae, this saves you from compression of the nerve roots, pain and neurological disorders recede, and the performance of the problem part of the spine significantly improves.
A real cervical intervertebral disc has a unique, mechanical structure. It can withstand huge loads, and at the same time ensures the activity of the cervical region.
Today, the cervical artificial disk replacement has quite a variety of variations that carry surgical treatment, helping patients with complications in the cervical region and symptomatic problems.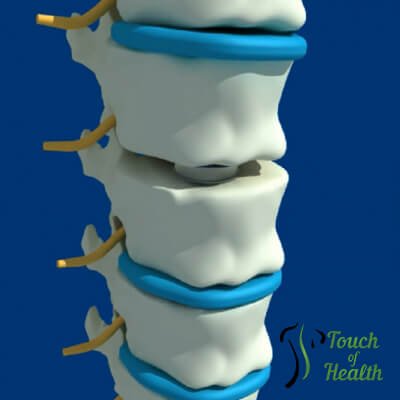 About Cervical Artificial Disc Replacement
Why do I need this procedure?
The task of implantation of an artificial intervertebral disc is to preserve movement in the disk space.
The advantage of implantation of an artificial disc include:
–    maintaining normal neck movement;
–    reduction of degenerative-dystrophic changes in adjacent segments of the cervical spine;
–    elimination of potential complications and problems associated with the need to install a bone graft for vertebral fusion and the use of tools for anterior cervical discectomy with fusion;
–    fast recovery of range of motion after surgery.
In most cases, pain or other symptoms caused by degenerative-dystrophic changes in the cervical spine respond well to conservative healing, especially at the beginning of the disease.
Unfortunately, sometimes conservative treatment does not help and urgent cervical artificial disk replacement is necessary.
Standard cervical artificial disc surgery involves anterior access. The same approach is used for anterior cervical discectomy with fusion.
Replacement of the cervical intervertebral disc is performed as follows:
An incision is made on the front side of the neck;
The defective disk is removed, as well as other disk fragments that press on the nerve or spinal cord;
To the original position, the disk space is raised to reduce the pressure on the nerves located nearby. Next, an important procedure is to restore the height of the disk to its initial position. When the disc loses activity, its height decreases and this leads to pinching of the nerves in the cervical region;
Using an x-ray, an artificial disk is implanted in the finished disk area.
Are there any potential risks or complications?
Complications occur in isolated cases, and the risk of an unfavorable outcome is 1%. Such conditions only come from the surgeon's incompetence or lack of professionalism. 
Like any operation, implanting an artificial intervertebral disc in the cervical spine has its own unique potential risks and complications. Our specialists in Orlando are highly trained and have the highest degree of training of doctors. Each of them has undergone rigorous training and we are confident and proud to declare their uniqueness and responsibility.
The artificial disk replacement in Orlando (Florida) is under the strict supervision of our surgeons and the operation is completed successfully. We value and care about our patients very much, so you can be absolutely calm about yourself and your health. Make an appointment with us and our specialists will accompany you through the entire course of treatment and provide you with all the necessary recommendations.
Our center is located near these locations:
Pine hills, Downtown, Winter garden, Metrowest, Altamonte, Apopka, Ocoee, Windermere, Doctor Phillips, Belle isle, Pine castle, Edgewood , Baldwin Park, College park, Millenia, Winter park, Goldenrod, Altamonte Springs, Maitland, Casselberry, Azalea, Oviedo, Lake Mary.
Bill is an active professional. In his free time, he enjoys running and working out in the gym. But for several years he had experienced chronic pain and discomfort along with a tingling sensation in his right cheek and shoulder. This was a major distraction in Bill's life and he was eager to resolve the cause of his symptoms.

I have spent my entire life being active and trying to stay healthy. I woke up one morning in 2015 with a sore neck. Over the next few weeks, it continued to worsen and I developed severe muscle loss in my left shoulder and arm. This continued on and off for the next two years. As a yoga instructor, I was very limited on ways to maintain the necessary strength. As a golfer, I was hardly able to play. After 9 or 10 holes I lost the ability to hold a club because of nerve damage. I was devastated to think that I might need neck surgery and was unable to find anyone locally who had a positive outcome from neck surgery.

Touch of Health Medical Center
Complete a full examination at our center and get a prognosis for your recovery.
Our specialists help you to recover much faster.