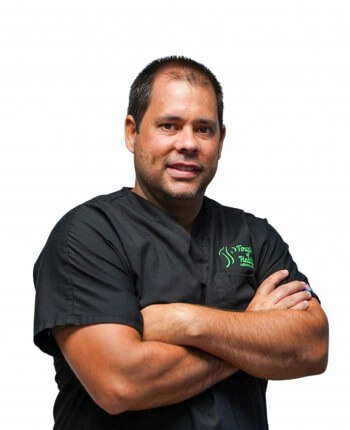 Other Certifications:
● Swedish Massage.
● Deep Tissue
● Hot Stone Therapy.
● Laws and Rules for Massage Therapy.
● Prevention of medical errors.
● HIPAA
● CPR
● RCA
Yasniel, Massage Therapist / RCA
Massage school graduate. Strong listening and communicative skills. Understanding of different massage techniques. Certified to practice in the state of Florida.
Skills:
● Licensed Massage Therapist
● RCA certification
● knowledge of body mechanics
● Knowledge of different massage techniques
● Active listening
● Safety and sanitation training
● Computer-literate
● Excellent phone etiquette
Medical Massage Certification:
● Neuromuscular Therapy for Low Back and Hip Pain.
● Neuromuscular Therapy for Cervical Strain and Sprain
● Postural Assessment.
● Medical Massage for Upper Extremity.
● Medical Massage for Lower Extremity.
                 What is massage?
Massage is a general term for pressing, rubbing and manipulating your skin, muscles, tendons and ligaments. Massage may range from light stroking to deep pressure. There are many different types of massage, including these common types:
Swedish massage. This is a gentle form of massage that uses long strokes, kneading, deep circular movements, vibration and tapping to help relax and energize you.
Deep massage. This massage technique uses slower, more-forceful strokes to target the deeper layers of muscle and connective tissue, commonly to help with muscle damage from injuries.
Sports massage. This is similar to Swedish massage, but it's geared toward people involved in sport activities to help prevent or treat injuries.
Trigger point massage. This massage focuses on areas of tight muscle fibers that can form in your muscles after injuries or overuse.
Massage therapy has helped many patients feel less pain, regain more muscle movement, increase range of motion, relive tightness of muscle and reduce stress.
The massage therapy helps to get rid of pain, prevent the onset of illness, recover from surgery and a car accident, and just feel better and improve your athletic performance. To achieve the best result, it is carried out in a course with a clear frequency. The number of chiropractic sessions is prescribed by the chiropractor and may vary depending on the patient's injury. Sometimes specialists prescribe it with other physiotherapeutic measures, exercise therapy and other procedures for chiropractic treatment after auto accidents. With its help, a lot of diseases can be removed, ranging from sprains, to joint stiffness and the consequences of severe injuries.

Touch of Health Medical Center

Our center is located near these locations:

Pine hills, Downtown, Winter garden, Metrowest, Altamonte, Apopka, Ocoee, Windermere, Doctor Phillips, Belle isle, Pine castle, Edgewood , Baldwin Park, College park, Millenia, Winter park, Goldenrod, Altamonte Springs, Maitland, Casselberry, Azalea, Oviedo, Lake Mary.
One of the widespread opinions is that massage therapy is needed only to restore the functions of the musculoskeletal system, in particular, the spinal column. In fact, this type of treatment from a chiropractor has practically no limits of impact. Chiropractors use it in the detection of a wide variety of diseases – both the main and auxiliary methods of healing. Massage therapy is used both for prevention and during rehabilitation, to restore lost functions and skills, relieve tension, improve skin condition and muscle tone. An important condition for achieving maximum effect is accurate planning of the number of visits and the time of the session. Sometimes chiropractors pay more attention to warm-up, or, conversely, the chiropractor focuses on rubbing movements. Massage after injury depends on the specific type of trauma. 
Beside traumas obtained during auto accidents, the indications for chiropractic sessions are the following:
Bruises and sprains;

Dislocations and subluxations;

Arthrosis and arthritis;

Injuries;

Surgical interventions and complications after them;

Joint stiffness;

Scoliosis;

Overweight;

Osteochondrosis;

Flat feet, etc.
Depending on the specific condition and the patient's requirements, the following types of massage therapy are distinguished:
Therapeutic – general

massage therapy

is used for a wide range of indications. It allows you to reduce the pain syndrome, increase the protective functions of the body to combat the disease, makes it possible to reduce the dose of drugs and, as a result, the load on the internal organs during

chiropractic

treatment.

Reflexology is a useful and very pleasant

chiropractic

procedure based on the effect on biologically active points.

Lymphatic drainage – massaging the lines of lymph flow allows you to relieve puffiness, helps against excess weight, cellulite, is prescribed for body shaping, is effective for venous insufficiency and cosmetic problems.
Why Try Massage Therapy after a Car Accident
Regular massage therapy can assist in maintaining and improving your health after a car crash. Massage therapy is absolutely beneficial for physical, mental and emotional health. Moreover, it will help you get to know yourself and your body better, that is, develop proprioception, which will further contribute to improving the reaction speed, which is extremely important for drivers to avoid a car accident.
Relief of nervous tension:

massage therapy

is a wonderful sedative. Scientists have proven that just one touch of a

chiropractor

significantly reduces the level of nervous tension.

Improved circulation: a good

massage after injury

improves blood circulation in the tissues. The influx of fresh blood contributes to early recovery after a

car accident

.

Improved mobility:

massage therapy

helps to relax muscles and increase their mobility, develops flexibility and increases the range of motion of the joints. All this will contribute to an early return to exercise, which will help prevent

injuries

in the future and improve your health after a

car accident

.

Prevention of chronic muscle pain and spasms: After a

car accident

, many people complain of muscle spasms due to the sudden muscle tension at the time of the collision.

Massage therapy

will not only help to get rid of the spasms that cause pain, but also promote general relaxation, which will prevent the development of spasms in the future.
Rehabilitation of the patient after a car crash involves the following steps:
Restoration of the anatomical position of bones, limbs and joints, by surgical or orthopedic-conservative methods.

Building a mode of life, sleep, rest, nutrition, physical activity, the use of orthopedic aids and rehabilitation equipment.

Elimination of puffiness and changes in blood vessels – the consequences are inevitable with prolonged immobility of the limbs. It is important to eliminate them as early as possible, avoiding possible complications in the future.

Improving muscle tone and elasticity – before returning to normal movements, you need to make sure that the muscles are mobile and functioning properly in order to exclude the possibility of sprains, pain syndrome and general physiological stress.

Restoration of the ability to move – motor processes should be restored gradually. In addition, it is important to monitor a gradual and timely increase in physical activity so as not to provoke a relapse.

Stimulating the work of the central and peripheral nervous system.
Massage after injury should be prescribed by a chiropractor based on the patient's condition. Usually, massage therapy is used for rehabilitation, but reflex methods are often effective as well after auto accidents. When carrying out a reflexology, it is important to remember that the injury areas should not be exposed to heat. In cases where injuries are accompanied by swelling and long-term persistent hematomas, chiropractic lymphatic drainage massage can be applied carefully by chiropractors. When using massage therapy for rehabilitation after a crash, several rules must be taken into account:
Massage therapy

is prohibited in the acute period of

injury

.

Massage

therapy

must correspond to the patient's condition.

Massage after

auto accidents

should not be painful.

The duration of the

massage therapy

session should start from 5-7 minutes, gradually increasing to 40-50 minutes.