Unparalleled In Terms Of Their True Care For Patients

I work a desk job sitting at a computer, and about 2 years ago I started noticing increasing pain and discomfort in my neck. After stressful or intense days, I would notice it was a lot worse and definitely connected it to positioning and posture with sitting at a laptop all day. I would try to massage my neck throughout the day and stretch it out, which would relieve some of the pain momentarily, but it never lasted. Eventually, it got so bad that I had to do something about it and I started going to a "one and done" chiropractor I had seen in a billboard. This helped a bit, but the care was quite generic and routine.
Since starting Chiropractic this year at Mark, my neck pain isn't even a thought anymore, but the level of intentional care I've received and other side effects have been so unexpected! I definitely sleep better than I used to, I feel overall more relaxed, and I'm encouraged to adjust my posture throughout the day which of course addresses the root issue of my pain. In addition, through the scanning, Dr. Mark has been able to show me how my body is responding to my lifestyle and the adjustments. He showed me that my lower back muscles had been unactivated (again due to constant sitting at a desk) and needed strengthening. Through adjustments and my own work, I've felt strengthening there, which trickles down to many other benefits.
Dr. Mark and the team are unparalleled in terms of their true care for patients. The thoughtfulness and connection in patients' lives is not something you would even look for from a chiropractic office, but it's the trait that makes them truly stand out among the rest!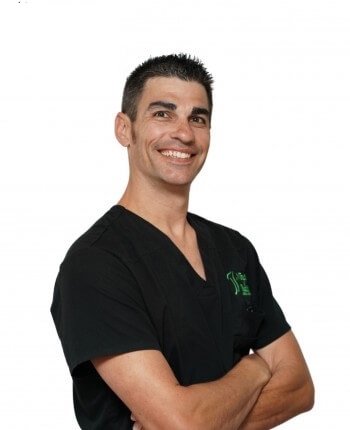 Dr. Mark Biondi was born in Council Bluffs, Iowa. At the age of three, his parents relocated to Merritt Island, so he has spent most of his life on the Space Coast and around Central Florida. He attended Merritt Island High where he developed an early interest in athletic training and sports medicine that would later lead him to pursue a career as a Chiropractic Physician. He attended Brevard Community College (now Eastern Florida State College) and the University of Central Florida. He then enrolled at Logan University, College of Chiropractic Medicine, where he received his Doctorate of Chiropractic degree.
Patient's names and details were changed due to HIPAA privacy policy.