It was almost like a last resort

Hi, I'm Marie. I've been coming here since November, so about four months now. And I wanted to do this testimonial just to share some of the results that I have seen.
When I first started coming here, it was almost like a last resort. I had talked to so many different doctors about the back pain that I'd been having; I couldn't really stand up straight, couldn't do a lot of moving, and was told all I could do is cortisone shots. And I did not want to do that, so I came here to check out meeting with a chiropractor. And it was one of the best decisions I've ever made, because I can do things now. I just came here from the gym where I was able to do squats and lunges and exercise, and not be in pain. And today was also one of those days where…I didn't have any symptoms coming in today, which feels good.
I'm at a place now where most days are good days. Most days, I feel great. I had some challenges in the beginning, trying to fit everything in, because this does take a lot of work. But once I was able to commit to all of the at-home exercises and coming in for the three appointments a week, once all of that kind of came together and I really focused on it, everything changed. It was so, so worth it. I feel like I am back to my old self. I know I still have ways to go, I still have a lot of treatment ahead of me, but I am feeling fantastic.
For anybody that's thinking about coming in, my biggest recommendation is, I mean, of course, come check it out, see if it's for you. But once you're in treatment, focusing on all of the at-home stuff is so important. I didn't think I could fit it in. I have a very, very busy schedule, but I carved out some time, I made it work and it made all the difference. I'm really glad I came here.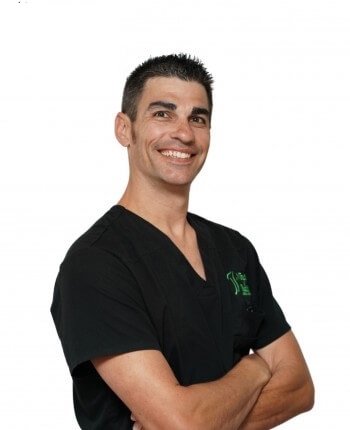 Dr. Mark Biondi was born in Council Bluffs, Iowa. At the age of three, his parents relocated to Merritt Island, so he has spent most of his life on the Space Coast and around Central Florida. He attended Merritt Island High where he developed an early interest in athletic training and sports medicine that would later lead him to pursue a career as a Chiropractic Physician. He attended Brevard Community College (now Eastern Florida State College) and the University of Central Florida. He then enrolled at Logan University, College of Chiropractic Medicine, where he received his Doctorate of Chiropractic degree.
Patient's names and details were changed due to HIPAA privacy policy.