Mary's Spinal Fusion Story

One day in 2012, my back started aching for no apparent reason. Within 24 hours I had shooting, searing pain down my right leg. My primary care doctor said I most likely had a herniated disc and would need surgery. But I was afraid there might be complications, or the surgery wouldn't fix my back pain. I decided to tough it out. The pain eventually got better but never really went away. I continued to have numbness in my leg and foot.
In 2016, I had another big episode and again in 2019. The last time, the pain was constant and there was nothing I could do to make it better, including pain medicine. I was at the point where I couldn't bend over and pick things up off the floor. I couldn't get clothes out of the dryer.
As a Continuum liaison nurse, I was trying hard not to let my patients know it hurt when I was leaning over to care for them. I loved yoga, but sometimes it hurt so badly I couldn't get up off the floor. It hurt to turn over in bed, and getting up in the morning was torture. I consider myself a pretty positive person, but the chronic pain was making me very depressed.
Over the years, I tried physical therapy, neurostimulation, and eventually, a chiropractor. Unfortunately, that made the pain worse. My chiropractor felt I needed further imaging and ordered an MRI. After seeing that the imaging showed I had a large herniation, she suggested I see a spine specialist.
GETTING SUPPORT
From the moment I contacted Anais, senior medical office coordinator, at the Touch of Health Medical Center, every single person I encountered was friendly and responsive to my unique needs and challenging work schedule.
Anais promptly responded to all my phone calls and messages. She even scheduled the needed tests and appointments around my work hours.
Anais also made sure all of this could be done in calendar year 2021, as I requested, due to changes coming to my insurance in 2022.
I expressed to neurosurgeon Michael Thomas, DO, my desire to get back to work as quickly as possible, and he suggested a modified, minimally invasive approach to my L5/S1 fusion surgery. This was out of the norm and more difficult for him but greatly reduced my recovery time.
This allowed me to return to work faster than most patients who receive a spinal fusion with a spacer. A spacer is a foreign object a surgeon places to hold the vertebrae apart so the nerves are not compressed by the ruptured disc.
MY UNEVENTFUL SURGERY ADVENTURE
Every encounter in preparation for my surgery was smooth and thorough, and I felt confident leading up to my December 1, 2017 operation. On the day of surgery, the staff was informative and protected my confidentiality. I also felt they were genuinely concerned for what I was going through. My husband was pleasantly surprised at how often the staff updated him on my status throughout the day.
My pain was managed very well – the nurses knew better than I how to avoid severe post-op pain. They walked me through every aspect of my hospital recovery and checked on me frequently.
BACK TO LIFE AND PAIN FREE
I returned to work on July 12, 2021. Now I feel like a new person! I no longer have a limp and can exercise and move. I'm finally enjoying life again! I've gotten back to all the things I had given up for the last couple years, like working in the garden and lifting heavy things. Sometimes I even forget I had a bad back.
If I talk to someone who is experiencing chronic back pain, I tell them to go see Dr. Michael Thomas at the Touch of Health. I also tell them not to be afraid, like I was. The nurses, doctors, and entire Touch of Health team really cares about the patient's experience. They will do everything possible to meet their every need.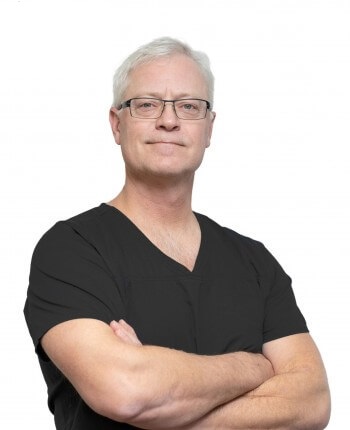 Dr. Michael A. Thomas is a board-certified neurosurgeon who practices general neurosurgery with a specialty in minimally invasive spine surgery, skull base and endoscopic brain surgery. He treats conditions and diseases affecting the nervous system, which includes the brain, spine, spinal cord, and the peripheral nerves. Dr. Thomas has been referred to as a patient-focused professional and a conscientious and skilled neurosurgeon by his colleagues. He is certified by the American Board of Osteopathic Surgeons with a Neurosurgical discipline and the National Board of Osteopathic Medical Examiners.
Patient's names and details were changed due to HIPAA privacy policy.