There were days I couldn't walk up a flight of stairs, never mind run a 5K

As an advertising professional I understand the value of testimonials. I believe you better have a really good experience in order to put your name on a testimonial. Too many people claim health, wealth and happiness just to author a testament to their success. Most are looking for their fifteen minutes. I'm not. That said, here is my story.
I'm a 44 year old semi-athletic male. That is I like to exercise and be active but I tended to forget I am on the other side of twenty by fourteen years. Like most guys my age I have had my assortment of bumps and bruises. I have had something else that could stop me dead in my tracks and render me into a testy, hunched over cripple. Back problems. There were days I couldn't walk up a flight of stairs, never mind run a 5K. I was a snappy miserable person when my back acted up. I tried it all; Physical Therapy, pain killers anti-inflammatory medications, even Chiropractic and nothing made my back or my mood better. I once went to another "Back Doc" and was treated like I was just another number. My weekly treatment consisted of ten minutes of chit chat followed by three minutes of snapping my bones. It was so bad I was putting Advil on my ice cream, like candy even with treatment. I must admit I looked at Chiropractic as Voodoo medicine. It seemed like the medical version of MLM. Just keep you coming back and tell you you're getting better. Well my back issues were getting worse and I went looking for relief. I even considered surgery.
This past October I gave Dr. Mark a try. I had heard good things about his practice and given my condition, I was ready to give him a shot. I noticed the difference the very day I called the office. When I called I got the answering machine. Not one hour later I received a call who promptly and very professionally scheduled me in for the next morning. See if you get that kind of service from your regular MD. Upon entering the office I was greeted and plugged into the system. Never once did I feel rushed or second class.
My meeting with Dr. Mark was educational. He explained, after reviewing my X-Rays that I had Subluxation of my spine and if he accepted my case I would have to commit to a long process in order to get better. I thought oh great some neat term to separate me from my money. So I pushed back and fired off some tough questions about Chiropractic and why the lengthy timeline. To his credit Dr. Mark never wavered or got defensive. He presented me, in complete detail, how time and genetics have caused my problems, showing me X-Rays of "healthy" spines and how there are various stages of degeneration. He pointed out where I was in that process. He discussed quite clearly how my problems were bad, but not un-repairable. Let's be honest I'm a skeptic, I see baloney in almost everything, but something in Dr. Mark's delivery made me trust my "Subluxation" to him.
It's been seven months and I am back running (Sorry Doc) and exercising 3-5 days per week as my schedule allows. My back still reminds me when I am doing too much, but my flexibility and posture has improved noticeably. Oh yeah I no longer sprinkle Advil on my ice cream. I thank everyone at Touch of Health Medical Center, my family is grateful too.
-Thomas G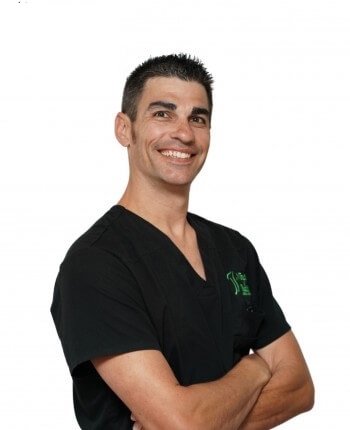 Dr. Mark Biondi was born in Council Bluffs, Iowa. At the age of three, his parents relocated to Merritt Island, so he has spent most of his life on the Space Coast and around Central Florida. He attended Merritt Island High where he developed an early interest in athletic training and sports medicine that would later lead him to pursue a career as a Chiropractic Physician. He attended Brevard Community College (now Eastern Florida State College) and the University of Central Florida. He then enrolled at Logan University, College of Chiropractic Medicine, where he received his Doctorate of Chiropractic degree.
Patient's names and details were changed due to HIPAA privacy policy.