The Long Walk to Freedom from Pain

I will start at the beginning. I joined the California Highway Patrol in March of 1971. After working for 11 years, I spent two weeks at motorcycle school in Sacramento, CA, and thus began my next 6 years as a motorcycle officer working the freeways and streets in southern California. In September of 1987 an automobile swerved out of the carpool lane almost striking my motorcycle. I swerved to avoid the car and as a result struck the concrete pavement. I spent the next several months in physical therapy, while continuing to ride. On June 2nd 1988 while in route home from my last day of physical therapy at a local hospital, I was on a surface street when a car, which was coming from the opposite direction, suddenly swerved left in from of me, trying to turn onto a cross street. I was unable to avoid striking the front of the car. As a result I was ejected into the windshield and over the car onto the pavement, unconscious.
I awoke some hours later in excessive pain. I spent the next eight days in the hospital with two fractured ankles and a herniated disc in my neck which required surgery. I spent the next twelve months in rehab, after which I went back to work – in a car. The doctors stated my motorcycle days were over. The following year I sustained an injury to my left knee which resulted in excessive swelling. The fluid in the knee was drained three times prior to the surgery. The next six months was spent in rehab.
I was back to work in June of 1988, after rehab and back driving a car again. While at the scene of a two-car accident on the freeway I suddenly heard a screeching of tires. I looked over and saw a pickup strike the rear of another car. Suddenly the car swerved to the right across two lands and struck the CHP patrol car; which in turn struck me, throwing me up and back into the concrete block sound wall. The patrol unit was pushed sideways against the sound wall where I just moments before had been standing. My partner could not see me and thought I was under the (CHP unit) patrol car. After striking the sound wall I was thrown to the pavement just behind the unit. My partner yelled for me and I answered him advising him I could not stand because I had no feeling in my legs. An ambulance was requested, and I was transported to the hospital where I was treated and released. I spent the next two weeks getting the feeling back in my legs. Well it was back to work again, on the road driving a car.
I subsequently transferred out of southern California to a San Diego County area office for the last six years of my career, which totaled almost thirty years. I also sustained a back surgery as well as an injury to my right shoulder. The back surgery was in February of 1997. After rehab I was back to work six months later.
My last day I was working of my career was on November 30th 1999. The pain level in my back and down my right leg (sciatica) continued to increase to the point where I could hardly stand and open or close the door of my CHP unit. As a result I had to give up a job which I had spent my life doing, what I had enjoyed for almost thirty years. I finally retired in September of 2000.
The next nine years of retirement would be filled with a second neck surgery, as well as a shoulder surgery, and finally a double hernia surgery. As a result of my fist back surgery, at which time screws and plates were placed in my back to stabilize the low back, I developed intense tingling and numbness to both feet; Damaged nerves, as it was called.
The end result was filled with taking medication every day so I could tolerate the back and neck pain. I had also been treated by two acupuncturists and three chiropractors with only temporary relief after treatments.
I subsequently moved out of state to Orlando. There I called and made an appointment to see Dr. Mark Biondi. As a result Dr. Mark prescribed a specific program over a two month period. I was skeptical at first, but that soon fell by the wayside. As a result of the program which consisted of Spinal Decompression and chiropractic adjustments provided me with the following:
Reduced pain in my mid-back which I've had for 20-30 years, to the point where IT'S GONE.
Also I've had pain reduced in my neck, low-back, right shoulder, and right hand. Tingling and numbness in both of my feet was reduced as well as my left knee.
My sincere thanks for a job well done. As a result I've been able to cut my pain medication by 50%.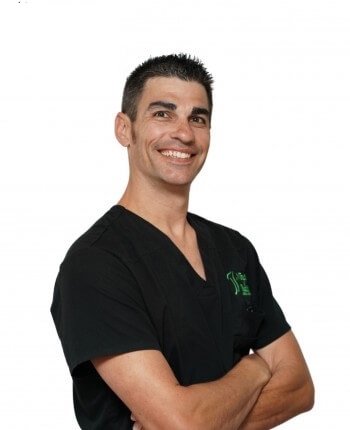 Dr. Mark Biondi was born in Council Bluffs, Iowa. At the age of three, his parents relocated to Merritt Island, so he has spent most of his life on the Space Coast and around Central Florida. He attended Merritt Island High where he developed an early interest in athletic training and sports medicine that would later lead him to pursue a career as a Chiropractic Physician. He attended Brevard Community College (now Eastern Florida State College) and the University of Central Florida. He then enrolled at Logan University, College of Chiropractic Medicine, where he received his Doctorate of Chiropractic degree.
Patient's names and details were changed due to HIPAA privacy policy.