I was ready to try anything at this point

"I am a computer type and my job consists of sitting at the keyboard all day. To balance this, I enjoy running and swimming. I ran my first marathon in 1979, and have run over one hundred marathons since. Over the years I naturally slowed down a bit which is understandable, but what I didn't understand was a progressively worsening tightness in my back, shoulders, and neck over the last 10 years. I sort of ignored it until it began having impact on my active lifestyle. Being a computer guy, I naturally turned to the internet in a search for answers. After considerable research, I finally put enough pieces of my puzzle together to discover the concept of "Upper Cervical Adjustment". Fortunately, Dr. Mark's name came to my attention soon afterwards. Although I was highly skeptical at first, I was ready to try anything at this point, so I made my evaluation appointment. I was very impressed with the evaluation process which included biometric measurements, x-ray analysis, and my own verbal accounting of my struggles with pain. I recall that even the "range of motion" evaluations the Doctor put me through that first visit (such as turning my head from side to side, and up and down) were problematic for me, and triggered my pain. I was getting perilously close to becoming a basket case. When he explained what was going on, and showed me x-ray views and spine models, it started to make sense.
Dr. Mark performed the "upper cervical adjustment" on me during my second visit. It was totally painless and non-traumatic. My status was monitored 3 times a week for the first few weeks, and when evaluations indicated, I received a number of subsequent adjustments. The adjustments began "holding" longer and longer, and my visits gradually diminished from 3 a week to one every 6 weeks. Of course for me the most important fact is that the pain that originally drove me to the Doctor's office had subsided. This was very remarkable to me since I had been dealing with it for many years. I am a firm believer in the body's ability to heal itself if given a chance. Habits and circumstances can lead to miss-alignment. The process to reverse this, which is Dr. Mark's approach, is two part: first, physically correct the miss-alignment, and then second, promote a healthy lifestyle including diet and exercise that will allow the body to do what it does naturally, which is maintain proper alignment. Thank you Dr. Mark and staff." — Frank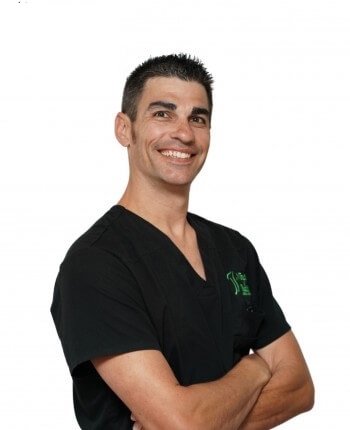 Dr. Mark Biondi was born in Council Bluffs, Iowa. At the age of three, his parents relocated to Merritt Island, so he has spent most of his life on the Space Coast and around Central Florida. He attended Merritt Island High where he developed an early interest in athletic training and sports medicine that would later lead him to pursue a career as a Chiropractic Physician. He attended Brevard Community College (now Eastern Florida State College) and the University of Central Florida. He then enrolled at Logan University, College of Chiropractic Medicine, where he received his Doctorate of Chiropractic degree.
Patient's names and details were changed due to HIPAA privacy policy.