I was in Urgent Care for the third time in two years with muscle spasms

To share my success story, I would have to share my life before my one-day piano moving career. I have never been intimidated by home improvement projects for myself or others. Want to know how to tile? No problem- I have all the tools, I'll even help! My business partner and I decided we were strong enough to move a piano. Later that night, I was in Urgent Care for the third time in two years with muscle spasms. I was given muscle relaxers and told to rest for a few weeks.
I went to Touch of Health within the first week of my piano moving retirement and I am very glad I did. I had been to a chiropractor 10 years before, but was so much more impressed with the layout of Touch of Health. To have therapy, massage and chiro all in one stop fit perfectly into my busy schedule! The customized care plan they put together is using their entire arsenal to correct the many problems in my joints, nerves and muscles. The entire Touch of Health team is energetic and fun to be around. Service is as quick as they can make it, and always professional!
I have been under the care of Dr. Mark and his team for just over a month. After being in active rehabilitation and getting adjusted multiple times a week, I'm in much better shape. I don't have the constant ache in my lower back. My neck has had huge improvements, with still a ways to go. I am also learning ways to stretch out correctly and I'm slowly getting back to my workout routine.
Although, I'll never move another piano, I haven't retired from moving furniture and taking on big projects. However, considering how much better I feel now compared to my pre-piano moving days, I will do a much better job taking care to practice what I have learned and listen to what my aches and pains are telling me. I am very grateful for the team at Touch of Health for snapping me back into shape.
– Jeannie H.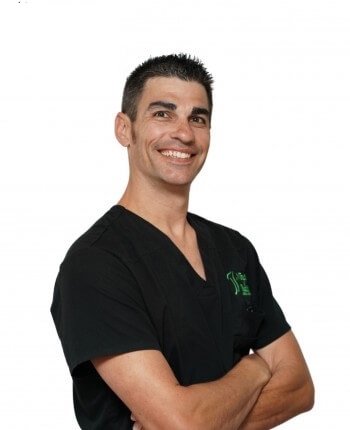 Dr. Mark Biondi was born in Council Bluffs, Iowa. At the age of three, his parents relocated to Merritt Island, so he has spent most of his life on the Space Coast and around Central Florida. He attended Merritt Island High where he developed an early interest in athletic training and sports medicine that would later lead him to pursue a career as a Chiropractic Physician. He attended Brevard Community College (now Eastern Florida State College) and the University of Central Florida. He then enrolled at Logan University, College of Chiropractic Medicine, where he received his Doctorate of Chiropractic degree.
Patient's names and details were changed due to HIPAA privacy policy.