I have my knee back and can do the things I love

Kaye was an active 40 year old playing competitive netball numerous times a week. She also enjoyed climbing, salsa dancing and horse-riding, until 2014 when she injured knee **SPECIFIC INJURY DETAIL** during a netball game. From the time of injury she experienced grinding and swelling and on occasions her knee would 'lock'. Kaye had surgery on her knee in Orlando and due to the level of damage from the injury she had a large amount of her left lateral meniscus removed.
Following her surgery in 2014 Kaye was advised to refrain from any sports and activity to prevent further 'wear and tear' to her already slightly damaged bone surfaces. Kaye described her feelings at this point, 'I felt my whole life had fallen apart. As a sporty lady the prospect of walking with a stick and being struck with arthritis was an image I struggled with'.
In 2019, a work colleague suggested Kaye seek another opinion on her knee and she visited Dr. Patrick Tyrance in Orlando to discuss the possibility of meniscal transplant surgery. Kaye was keen to get back to some sort of activity and decided to go ahead with a meniscal allograft transplant. Being an active woman focussed on her own recovery, Kaye embraced a pre-operative exercise regime to build the strength in her leg muscles. The surgery went well and the rehabilitation programme commenced under guidance of specialist physiotherapists.
Kaye remembers 'Recovery was hard, but I was surprised to find that in some ways it was better than the recovery I had after the total menisectomy. I prayed the graft would take, and I worked hard at rehabilitation. I couldn't believe how well I was doing. At eight weeks I was full weight bearing, walking without any limp. At twelve weeks, I was cycling and gradually building up the bend in my leg.'
Twelve months on from surgery, Kaye is continuing to progress 'I have no pain, no restriction and full range of movement.' Highlights to date since her surgery include climbing a cliff face in Scotland, a few games of tennis, joining in on parents vs children's rugby charity game and a walking holiday. Above all, 'I have my knee back and can do the things I love'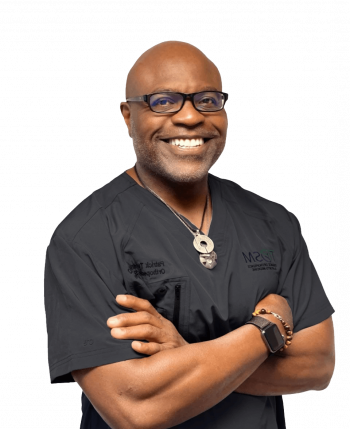 Prior to becoming an Orthopedic Surgeon, he was a former All-Conference and Academic All-American linebacker at the University of Nebraska and drafted by the LA Rams before completing medical school and orthopedic surgery training at Harvard.
He is known as a compassionate physician and recognized for his surgical skill. In addition to his private medical practice, Patrick Tyrance, Jr. MD serves as an advisor to a number of healthcare startups and evaluates patented technologies in medicine and healthcare for their commercialization potential.
Patient's names and details were changed due to HIPAA privacy policy.