I am a 50 year old grandma and had no time for back pain

I went to a back specialist before coming to Dr. Mark and had x-rays and an MRI that diagnosed me with a bulging disc between L4-L5 causing pain in my low back and sciatic pain that went from my back all the way down into my foot. At its worst the pain was a 9 lasting 24 hours a day. I tried chiropractic adjustments with no relief. I went through three Cortisone shots, the first one lasted 9 months but the last one didn't help at all. The only pain medicine I could take was Tylenol as I am allergic to all anti-inflammatory medicine. Ice and heat were my nightly rituals before going to bed, sometimes even an ice pack in the car on the way to work. Since I had tried everything but surgery, I thought that this couldn't hurt. I also didn't want to rely on Cortisone shots that only masked the pain and didn't help my body heal itself.
Dr. Mark and staff talked me through the decompression. After the first visit my pain was almost at zero. It was so strange to walk out and have no pain. Following the plan that Dr. Mark gave me was what did the trick. Three visits each week for three weeks was inconvenient but the results came. Yes, that took time out of my work day but the results more than paid for my travel time. Once in the office the time went quickly, the staff gets you right in for decompression and adjustments. The ladies in the office are friendly and inviting.
Fact that your body can heal itself without medication or surgery is amazing! Treatments and the exercises that Dr. Mark recommends help your body feel strong again.
I am a 50 year old grandma and had no time for back pain. Coming to Dr. Mark for help was the best thing that I could have done. With little or no pain, I can enjoy playing with my grandkids whether it is volleyball, basketball, or just playing on the swings at the playground, I can be the best that I can be. I also enjoy taking trips on my motorcycles; an 8 hour ride day is no problem. If I am a little stiff, a little of the magic cream and stretches, and I am as good as new.
If I only have to come in for an adjustment once in a while the series of treatments were well worth the cost and time. You can't put a price on your health.
Thanks again Dr. Mark and staff!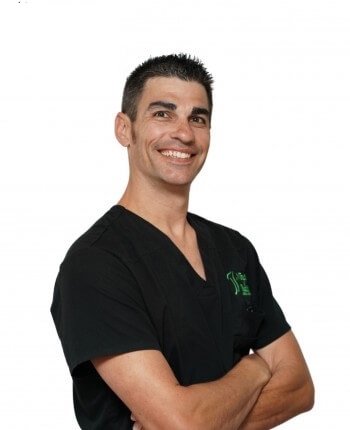 Dr. Mark Biondi was born in Council Bluffs, Iowa. At the age of three, his parents relocated to Merritt Island, so he has spent most of his life on the Space Coast and around Central Florida. He attended Merritt Island High where he developed an early interest in athletic training and sports medicine that would later lead him to pursue a career as a Chiropractic Physician. He attended Brevard Community College (now Eastern Florida State College) and the University of Central Florida. He then enrolled at Logan University, College of Chiropractic Medicine, where he received his Doctorate of Chiropractic degree.
Patient's names and details were changed due to HIPAA privacy policy.