Dr. Patrick Tyrance Jr. healed her bicep tendinitis

When fitness is your job, it's important to stay healthy and pain-free. Patient Margaret O. recently sent us her story and shared how Touch of Health and Dr. Patrick Tyrance healed her bicep tendinitis and allowed her to enjoy her job again.
I am a fitness instructor, and due to overuse of my muscles about a year and a half ago, I developed bicep tendinitis on my right arm. I subsequently had to get a cortisone shot, but the pain never did completely go away.
They recommended physical therapy, but with the location, travel time, cost, etc. it really did not make sense. I attempted to do self-therapy through research and while it alleviated my pain for a little while, it was never significant.
I then decided to try Touch of Health and even though treatment can be uncomfortable at times, your relief is immediate.
I was able to get through classes much easier, and I know that if I follow what Dr. Patrick Tyrance says, I will continue to see improvement. The best part for me was being able to continue with my activities. Touch of Health allowed me to really start enjoying my job again versus anticipating that my shoulder would hurt at any minute.
In addition to the biceps tendinitis, I also fell down my stairs landing on one side of my back injuring the soft tissue and also aggravating an old issue. I could not bend over halfway without pain even after 3 weeks of being on heavy medication. The treatment process for my back injury was short and I could soon touch my toes with no pain at all.
Patrick Tyrance is a great doctor as well as a great person to have in your corner. I appreciated the time I spent with him and I am continuing to work hard to do all of the things that he showed me.
– Margaret O.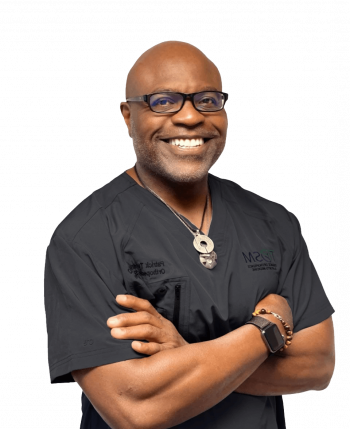 Prior to becoming an Orthopedic Surgeon, he was a former All-Conference and Academic All-American linebacker at the University of Nebraska and drafted by the LA Rams before completing medical school and orthopedic surgery training at Harvard.
He is known as a compassionate physician and recognized for his surgical skill. In addition to his private medical practice, Patrick Tyrance, Jr. MD serves as an advisor to a number of healthcare startups and evaluates patented technologies in medicine and healthcare for their commercialization potential.
Patient's names and details were changed due to HIPAA privacy policy.