Crystal Found Relief from Chronic Neck Pain After Undergoing Artificial Disc Replacement Surgery

Crystal Found Relief from Chronic Neck Pain After Undergoing Artificial Disc Replacement Surgery
I am so thankful that Dr. Michael Thomas and his team have returned me to my normal life and activities! I am extremely grateful that I found Touch of Health Medical Center after more than two years of neck and shoulder pain. From my initial phone call with a New Patient Care Coordinator to the post-op follow-up, I was beyond impressed by the kind and helpful response of their physicians and entire staff. Every member of the team made me feel welcome and reassured me that they could help me find relief for my neck pain.
I have spent my entire life being active and trying to stay healthy. I woke up one morning in 2015 with a sore neck. Over the next few weeks, it continued to worsen and I developed severe muscle loss in my left shoulder and arm. This continued on and off for the next two years. As a yoga instructor, I was very limited on ways to maintain the necessary strength. As a golfer, I was hardly able to play. After 9 or 10 holes I lost the ability to hold a club because of nerve damage. I was devastated to think that I might need neck surgery and was unable to find anyone locally who had a positive outcome from neck surgery. My entire family was affected by my chronic pain and we are extremely thankful that it is gone.
I found Touch of Health online and reached out with a phone call to see if they would even treat someone out of state and if they would have any options to help me. During my initial consult with Dr. Thomas, he reassured me that I could be treated and spoke about several options, depending on what my scans and images showed. Ultimately I ended up needing a disc replacement in my neck. The pain relief was immediate and I felt better in the recovery room! After months of sleeping on ice packs and even needing one to even travel in the car, I was finally pain-free!!!
My husband and I chose to make the 3 hour trip to Touch of Health Medical Center because we were unable to get any positive responses locally. It is a decision we would repeat in a heartbeat. After suffering every day, I am extremely thankful for the care and healing they provided me. I am filled with gratitude daily for the positive outcome I have had and I would recommend the Touch of Health to anyone!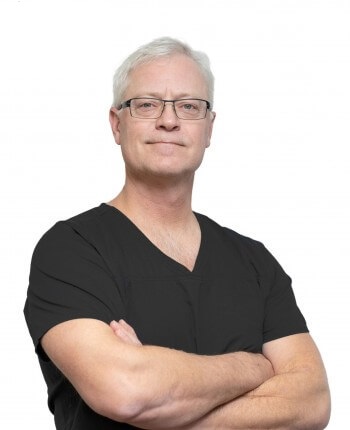 Dr. Michael A. Thomas is a board-certified neurosurgeon who practices general neurosurgery with a specialty in minimally invasive spine surgery, skull base and endoscopic brain surgery. He treats conditions and diseases affecting the nervous system, which includes the brain, spine, spinal cord, and the peripheral nerves. Dr. Thomas has been referred to as a patient-focused professional and a conscientious and skilled neurosurgeon by his colleagues. He is certified by the American Board of Osteopathic Surgeons with a Neurosurgical discipline and the National Board of Osteopathic Medical Examiners.
Patient's names and details were changed due to HIPAA privacy policy.